Prickly Pear Pink
Inspired by the bright, juicy cactus
Fruit that thrive in parched terrain.
Grab this tantalizing color while you can in select drinkware and gear (thorns not included).
Color Inspired By True Events™
To win a taste of a prickly pear, you'll have to faceoff with thorned cacti first, one of many culinary challenges Miguel Vidal doesn't shy away from.
That's because going the extra mile to add heart, zest, and heritage into his food is the backbone behind his one-of-a kind meals.
When you see this bright, magenta-looking color amongst the browns and green earth tones, it's like the sun shines through on a cloudy day and just soothes you."
- Miguel Vidal
Yeti Ambassador | Pitmaster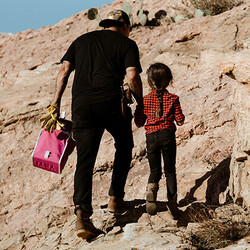 Prickly Pear Pink
Uncover the
Full Collection
Get a taste of our new Prickly Pear Pink Collection — inspired by tasty cactus fruit that play hard to get.